Luxury Vinyl Tile
LVT flooring is a kind of high quality decorative vinyl flooring, as high-tech research developed, new-type ground material, which is usually used in domestic and commercial areas
LVT flooring is a kind of high quality decorative vinyl flooring, as high-tech research developed, new-type ground material, which is usually used in domestic and commercial areas. LVT is mainly made of polyethylene and calcium carbonate with a certain percentage. Polyethylene is an environmentally non-toxic renewable resource. All the ingredients are non-toxic, non-radioactive and eco-friendly.
Prime Deco is a LVT authorized distributor, with more than 10 years of experience in vinyl flooring. We can produce LVT dry back, LVT glue down, LVT peel & stick, LVT self-adhesive, Loose lay based on the different installation ways. And we can provide 1.8 meter LVT,  herringbone, random installation, based on the size. Besides, we also provide deep embossing/ BP texture, wood embossing/ wood texture, EIR, register embossing/ register texture.
WHY CHOOSE SPC FLOORING FROM PRIME DECO

Sound-tec
Dual purpose foam underlayment knocks down sound transfer between levels of the home while also providing comfort to live on..

Anti-scratch, pet-free
With fortifier in UM our DIAMOND surface treatment performs better in anti-scratch function.

Abrasion resistance
With fortifier in wear layer, abrasion coefficient of our wear layer is 1500R more than regular wear layer of same thickness from other suppliers.

Anti-bacteria
DIAMOND surface treatment is effective in presenting Grape globular bacteria, Escherichia and fungi, etc.
LVT STRUCTURE
Luxury Vinyl flooring is a waterproof hard surface floor that has the look and feel of hardwood. Also referred to as LVT/LVP, luxury vinyl is very affordable and extremely resistant to foot traffic, pets, and everyday household uses. LVT is easy to maintain and has a wide variety of colors and styles.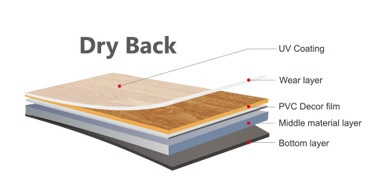 SPECIFICATION
| | | |
| --- | --- | --- |
| Item | Unit | Result |
| Total thickness | mm | 2.0/3.0 |
| Thickness of wear layer | mm | 0.1/0.2/0.3/0.5 |
| Surface treatment | - | PUR |
TECHNICAL DATA
| | | | |
| --- | --- | --- | --- |
| ITEM | STANDARD | UNIT | RESULT |
| Length/Width | EN ISO 24342 | mm | ≤0.10% /≤0.50mm |
| Squareness/Straightness | EN ISO 24342 | mm | ≤0.25mm |
| Total thickness | EN ISO 24346 | mm | ±0.15mm |
| Wear layer | EN ISO 24340 | mm | ±0.05mm |
| Total mass per unit area | EN ISO 23997 | 一- | +13%/-10% |
| Peeling Strength of layer | EN 431 | — | >50N (50mm) |
| Residual indentation(average) | EN 433 | mm | <0.1 |
| Fire Resistance | EN 13501-1 | — | Bfl-S1 |
| Dimension stability after exposure to heat | EN 434 | % | <0.25 |
| Curling after exposure to heat | EN 434 | mm | <2.0mm |
| Color fastness to light | EN IS0105 B02 | — | grade>6 |
| Loss on heating | JIS A5705 | — | <0.5% |
| Change in length to water absorption | JIS A5705 | mm | <0.20mm |
| | | | |